2015 Leadership Forum Summary
Fairfax Futures' 2015 Leadership Forum, Building 21st Century Workforce Skills: Supporting Digital Literacy, focused on digital literacy, from cradle to college to career.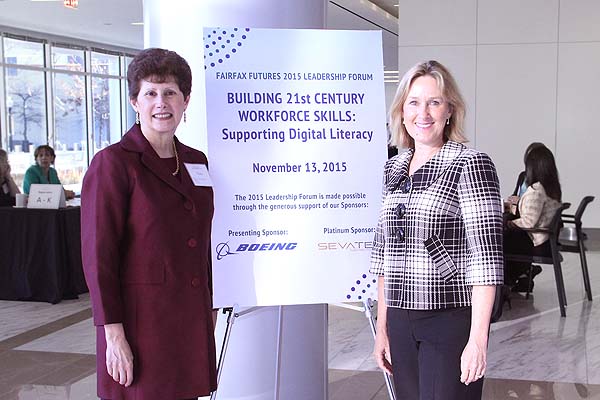 Keynote speaker Karen Cator, CEO of Digital Promise, described how technology is transforming classrooms and leveling the playing field for students with different learning styles. Digital learning is more easily personalized, so that students in the same classroom can progress individually.
She highlighted eight ways that technology supports lifelong learning, from providing students with access to professional tools, to feedback loops to monitor their progress, to online demonstrations and visualizations, to access to global experts and expertise.
Cator said that 21st century workforce skills would continue to revolve around communication skills, critical thinking and problem solving.
Alex Chisholm, President of Skylab Learning, and Kavitha Cardoza, Special Correspondent, WAMU Radio, focused on game-based learning. Games, even simple ones like Scrabble, can make learning fun, providing greater opportunity for experimentation and failure, than rote memorization.
Chisholm emphasized the importance of fun and mischief in education. Games provide the freedom to experiment, and to take on a new identity. They foster curiosity, creativity and persistence. For game-based learning resources, Chisholm recommended education.mit.edu.
Tara Chklovski, CEO of Iridescent, focuses on helping parents engage their children in STEM-related activities (science, technology, engineering and math). She said that it is important to help parents feel empowered to engage in STEM activities with their children. Her program offers mentoring and support to help parents increase their support and STEM focus with young girls and with children from families with low income.
Iridescent has developed curiositymachine.org, a website that offers parents, mentors and students ages K-12 engineering design challenges that use ordinary household objects. They also sponsor the Technovation Challenge, the largest and longest-running global technology competition exclusively for girls to inspire the pursuit of STEM.
Microsoft's Allyson Knox, Director of Education Policy and Programs, concluded the program, addressing the need for greater support for computer science education. Despite higher pay for graduates with computer science backgrounds, the subject is not offered in many high schools, and college credit is often not available for students who take the Advanced Placement tests in computer science.
Knox led the group in a brief and engaging computer coding exercise that featured child-friendly movie characters from among those available at code.org.
The 2015 Leadership Forum was made possible through the generous support of program sponsors Boeing and Sevatec, Inc.