What's New
New Video Series on STEM Experiences for Young Children

Fairfax, VA – Fairfax Futures announced the release of three short videos highlighting developmentally appropriate ways to introduce STEM experiences in early childhood settings. STEM refers to education in science, technology, engineering and math. The videos were made possible by a grant from The Boeing Company.
Each of the three videos incorporates children's literature and related hands-on activities to allow children to develop their language, fine and gross motor skills, as well as critical thinking, prediction and problem solving skills. All three were filmed in Fairfax County at local child development centers with educators…
Deanna Doan Joins Fairfax Futures' Board

Deanna Doan, co-founder and managing partner at Eleccion LLC in Herndon, VA., has joined Fairfax Futures' Board of Directors. Ms. Doan brings 20 years of leadership and expertise in program management and organizational improvement to the board.  Before founding a management consulting company, Ms. Doan was Vice President, National Security, at Allegheny Science & Technology in Tysons Corner, VA. She holds a BS in industrial systems engineering from Virginia Polytechnic Institute and State University and an MS in operations research from George Mason University. Among other boards and memberships, Ms. Doan has chaired the Fairfax County Public…
Early Childhood Educators Connect with STEM

The STEM Ready program – which introduces early childhood professionals to developmentally appropriate science, technology, engineering and math (STEM) activities that they can incorporate in their early childhood environments -- is the subject of a new video.
Created through a partnership between Fairfax Futures and Fairfax County Office for Children, the STEM Ready program brought together 37 early childhood educators who spent nine weeks engaged in activities designed to foster children's natural…
Workshop Focuses on Literacy and Life Skills for Young Children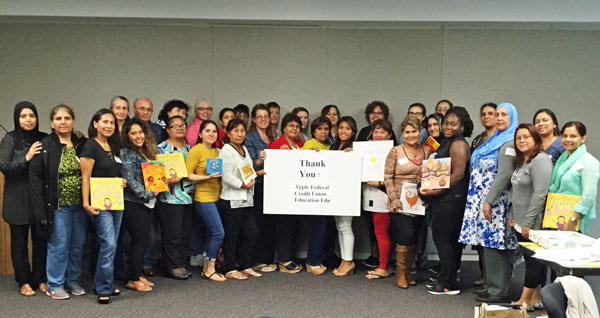 Participants in the first workshop on using literacy to help young children develop life skills.
The workshop was repeated for a second class.
Thanks to a grant from Apple Federal Credit Union Education Foundation, 72 early childhood educators have participated in a workshop on using literacy to help young children develop and practice life skills. Workshop attendees increased their understanding of children's emerging executive function skills and early brain development.…
Equality of Educational Opportunity Begins in Preschool

US News weighs in on a topic garnering much media attention of late: the fact that upper middle income families spend far more on educational opportunities for their children compared to lower…
STEM Kits for Early Childhood Classrooms

In partnership with Dominion Energy, Fairfax Futures recently delivered STEM education classroom kits to educators who completed a nine-week course on incorporating STEM concepts and experiences into their early childhood programs. The kits contain developmentally appropriate books, building materials and magnification stations that can be used to encourage young children's natural curiosity, discovery and exploration.
Dominion Energy is also supporting development of an environmental science video to be produced by The Teaching Channel. The video will share ways that families and early childhood educators can introduce young children…
A Two-Generation Approach to Workforce Development

As the U. S. faces a growing shortage of highly skilled workers, a new report makes the case that the role that quality child care plays in the education and workforce pipeline has been overlooked. The report, Workforce of Today, Workforce of Tomorrow: The Business Case for High-Quality Childcare, from the U.S. Chamber of Commerce Foundation's Center for Education and Workforce calls high-quality child care a "two generation approach" to workforce development. Quality child care helps young parents advance their education, raises workforce participation…
STEM in Early Education – Play's the Thing

What does a STEM-focused early childhood classroom look like? Forget memorization and scripted science experiments. In fact, you might be surprised to know that play plays a prominent role. Brain research has shown that play is an important evolutionary strategy for both animals and humans. And playful, hands-on exploration is the foundation for STEM learning as this article, Through Observation and Play, Toddlers Take on Science, points out.
Cox Charities Awards Grant to Fairfax Futures

Cox Charities has selected Fairfax Futures as one of five Northern Virginia grant recipients. With support from Cox Charities, Fairfax Futures will work in collaboration with the Fairfax County Office for Children to engage families with young children in early childhood STEM education experiences. (STEM stands for science, technology, engineering and math.) Fairfax Futures will bring its STEM program to five early childhood education programs in the county over the next year.
Penny Peng Joins Fairfax Futures Board

Penny Peng, who serves as Vice President, Finance Forecasting and Planning at PenFed Credit Union, has joined the Board of Directors of Fairfax Futures. Ms. Peng holds an MBA in Finance and an MS in Information Systems from the Robert H. Smith School of Business at the University of Maryland. She was appointed Treasurer of the Board.
Recognizing Active Engagement in Learning

Most of us have observed the sheer absorption that children – and adults – are capable of when using electronic devices. But does this engagement guarantee learning? Professor James Almarode at James Madison University says engaged learning is more than quiet compliance.  In classroom visits, he looks for eight difference characteristics of student engagement that lead to learning. Learn more in How to Ensure Students are Actively Engaged and Not Just Compliant on KQED News.
Developing Mindsets for Compassion and Caring

Dr. Robert Brooks, author of the book Raising Resilient Children, is a strong advocate for the role of caring adults in the lives of children. Even the smallest gestures of kindness, dignity and respect for students – a smile and calling them by name at the door – help create an environment in which all students feel welcomed and accepted. Learn more about the lessons Brooks draws from his research on resilience in How…
Grant Aims to Boost Skills And Improve School Readiness

Fairfax Futures has received a grant from the Washington Area Women's Foundation Early Care and Education Collaborative to develop a model program to increase the knowledge and competencies of family child care professionals and enhance the school readiness skills of the three- and four-year-old children in their care.
The program will be implemented with Fairfax County Office for Children and will be modeled after the Virginia Preschool Initiative mixed-delivery approach, serving young children from families with low to moderate incomes who are not enrolled in Head Start.
Through this project, participating family child…
How the Power of Interest Drives Learning

It may seem obvious that it is easier to learn things that are of interest to us. But decoding the role of interest in learning – what it is, how it develops and how to cultivate it in ourselves and in others – is taking on new importance in the science of learning. Research shows that interest can be a powerful predictor of students' future choices. We think you'll find this article about the power of interest in learning,…
A National STEM Agenda for Preschool

Achieving the goal of universal access to high-quality, developmentally appropriate STEM education  for preschool children will require a national agenda. (STEM stands for science, technology, engineering and math.) That is the conclusion of an Early Childhood STEM Working Group. Their new report, Early STEM Matters: Providing High-Quality STEM Experiences for All Young Learners, lays out the the rationale for promoting STEM in preschool and makes recommendations for policy, research…
Child Care Scarcity Impacts Working Families

For new parents, finding quality, affordable childcare can be daunting, according to this report from NPR. Infant care is in particularly short supply and there are often long waiting lists for available slots. A zip code analysis in eight states, including Virginia, even reveals "child care deserts," or areas with disproportionately few child care centers.  Read Child Care Scarcity Has Very Real Consequences For Working Families or listen online using the link at right.
Fairfax Futures Receives Grant from Boeing for STEM Education

Funding to Help Educators Integrate STEM Learning Into Early Childhood Programs in Fairfax County.
Fairfax Futures is pleased to announce that it has received a $50,000 grant from The Boeing Company to support the integration of developmentally-appropriate STEM experiences into in early childhood settings. STEM refers to education in science, technology, engineering and math.

Fairfax Futures will work in partnership with Fairfax County Office for Children to offer a 18-hour certificate course designed to strengthen the STEM skills and competencies of a cohort of early childhood educators. This…
Your donation will help us raise awareness, foster collaboration, and build programs in support of quality early childhood education and school readiness in Fairfax County.
Building STEM Connections in Early Childhood

A new booklet from Fairfax Futures describes the benefits of STEM (science, technology, engineering and math) education for young children and offers developmentally appropriate experiences to ignite the curiosity and problem solving abilities of young children.
Building STEM Connections in Early Childhood offers sample activities built around everyday interaction with young children at home, with friends, outdoors, or in an early childhood education setting. By sharing the child's sense of wonder, acting as a play partner and exploring together, caregivers can help…
Fairfax Futures Hosts Annual Business Leaders Reception

Fairfax County business leaders representing a variety of IT companies and other industries attended Fairfax Futures' Annual Business Leaders Reception this month at the home of Fairfax Futures Board Member and CEO of Sevatec, Balan Ayyar. Special guests included U.S. Rep. Gerry Connolly and Fairfax County Board of Supervisors Chairman Sharon Bulova.
Connolly, a long-time advocate of early childhood education, said, "It is never too early to start building the next generation of STEM leaders." Comparing investing in STEM to beginning the space program after Sputnik, Connolly said, "STEM is a critical investment the U.S. must make."
Fairfax…