Fairfax Futures' 13th Annual School Readiness Symposium: Creating Mindful Learners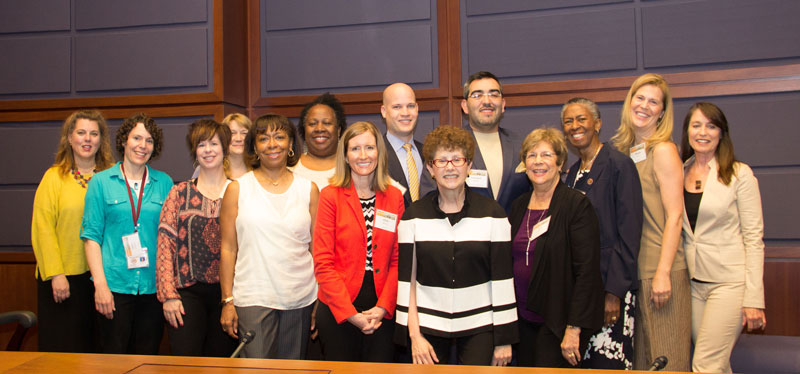 On Saturday, April 29, more than 240 early childhood educators attended "Creating Mindful Learners" – the topic of Fairfax Futures' 13th Annual School Readiness Symposium. Speakers focused on the importance of using mindfulness practices that help children calm themselves and learn to regulate their emotions. The event was held at the Fairfax County Government Center and was made possible by a generous grant from the PNC Foundation.
Fairfax County Hunter Mill District Supervisor Cathy Hudgins welcomed the participants, stressing the importance of working with young children and preparing them with life skills.
Francisco Duran, Chief Academic Officer, Fairfax County Public Schools, said that educators increasingly recognize the important of executive function skills—self-regulation, collaboration, and problem solving—as essential for success in school and life. He said early childhood educators could plant the seeds of cooperation and collaboration in their work with young children.
Steve Day, Vice President of PNC Financial Services, noted that PNC is delighted to continue its sponsorship of the Annual School Readiness Symposium. He emphasized that investment in the school readiness of young children is also an investment in the future of the entire community. PNC's support for the professional development of early childhood educators is directly aligned with the company's Grow Up Great initiative, a $350 million program to invest in early education for children from birth to age five.
Keynote presenters Linda Ryden and Jillian Diesner, teachers at Lafayette Elementary School in Washington, DC, described the "Peace of Mind" curriculum they have implemented at their school. According to Ms. Ryden, mindfulness is less about emptying the mind, than about paying closer attention to what we are doing in the moment. "We tell children to 'pay attention and focus,'" she said, "but we don't teach them how." For pre-K students, the peace curriculum focuses on breathing, social and emotional awareness, and partner practice. Both presenters emphasized the importance of modeling mindfulness. They said the practice benefits teachers as well as children. Leading participants in a series of exercises focusing on deep, calming breathing, they noted that breathing practices can be used throughout the day, including after recess or prior to shifting focus to other activities.
Following the keynote presentation, participants attended workshops including:
Listen, Imagine and Move
Marcia Daft's workshop incorporated music as a way to engage young children. She led the participants in practicing various calls and motions, accompanied by claves and egg shakers. The combination of words, rhythm and movement is a powerful teaching tool that helps young children learn to listen, focus, and respond in turn.
Mindfulness in Action
Presenters Bernice Mayfield, Debbie Weigand, and Laura Thieman led a workshop in which participants practiced a variety of mindfulness strategies, including
Listening to a chime to encourage focus and attention.
Standing and marching to a chime to integrate movement sensations and awareness.
Practicing "gratitude" in concert with taking individual steps.
Becoming aware of breathing—returning repeatedly to concentrate on breathing in spite of minor thought interruptions and distractions.
Movement benefits children by helping them channel and manage their energy. It also engages the senses, which exercises the brain. Workshop participants practiced building with smooth stone, which required focus, patience, and persistence.
Taste of Mindful Eating
A recurring theme among the workshop presenters was the need to insert a mindful pause between stimulus and response. Along these lines, Dr. Lynn Rossy explained the BASICS approach to mindful eating, which helps children and adults develop healthier food attitudes and healthier eating practices. BASICS is an acronym which refers to the importance of breathing, assessing hunger and savoring the food we eat.
Exploring Mindfulness through Nature and Children"s Literature
Dr. Joan Isenberg shared a treasure trove of children's books with suggestions for related activities adults can do with children to build focus, concentration, and attention. She also described how to make and use aids such as a calming jar or calming basket for children who need a pause to collect their emotions.